Muldoons Pasties & Gifts
Muldoons Pasties & Gift Shop is well-known for their award-winning traditional Cornish pasty. In 1989, U.P. natives Dale and Sally Beckwith decided to open a pasty shop and share with locals and visitors the same recipe that had become so much a part of their family's heritage. In 2011, Dale and Sally retired and Peggy Cromell and Tony & Donna Grahovac became the new co-owners. Then in 2021, Tony & Donna retired and Paul & Sheryl Cromell became the new co-owners with Peggy.
Muldoons was awarded the U.P. People's Choice Award, in 2001, as the result of a taste test conducted at the Upper Peninsula Tourism Conference. In 2022, Muldoon's made the top 25 list of travelers' choice for "Quick Bites in America" on Trip Advisor. They've also received many other recoginitions along the way!
This hearty meal wrapped in a pastry casing is prepared and freshly baked on site daily using the highest quality fresh ingredients. It's a great alternative to fast food, and you'll find flavor offerings to include beef, chicken, vegetable and fruit, as well as seasonal specialties.
Browse the gift shop to find a selection of U.P. gifts, t-shirts, and other unique items. When you are in Munising, make sure to stop by and try one of the U.P.'s favorites!
Homemade Fudge!
We make our own homemade "Grand Island Fudge" with a variety of flavors!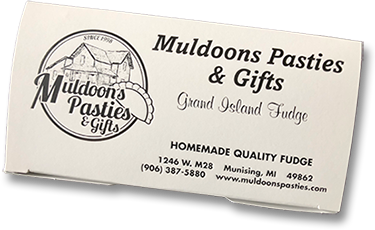 In approximately 1864, Finnish immigrants, along with Cornish miners, came to find work in the "Copper Country" of Michigan's Upper Peninsula. Pasties were the perfect, hardy meal for the miners. Their wives were able to use the potatoes and meat from leftovers, and envelope them in a crust which could be placed in the miners' pockets in the morning, and they would still be warm at lunchtime. Pasties came to be known as a "one-handed meal." The miners, with their dirty hands, could hold on with one hand and eat their way through the pasty, leaving only a small crust left over. To this day, pasties remain a staple food and tradition for many Upper Peninsula families.